Parivar Deities
Parivar Deities
Shree Hanuman,  Shree Ganapathi, Shree Maha Lakshmi , Shree Garuda are the Parivara Dieties of the Lord in this Temple.
Other Deities
Outside on the south side of the Temple is the Naga Katte where many Naga Bimba have been consecrated.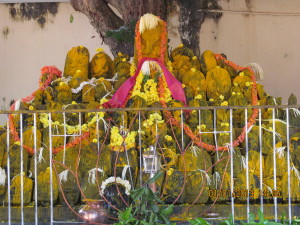 Other dieties are Brahamara – two of them. One in front of the temple near the Pushkarani and another besides the Bhojana Shala on the south side of the Temple on the Car street.
Opposite to the Temple besides the "Laxmi Narayana" Veda Paatashala building is Annappa Daiva Gudi. Annappa Daiva is said to have come and stayed here from Dharmasthala.
There is a Guliga daiva inside the Bhojana Shala.
Shree Brahmara Gudi at South End
Nava Griha Udyanavana
On the south side of the temple on the Car street is a Nava Griha Udyanavana. Here the Nava Grahas are represented by their respective trees. Appropriate directions, shapes are also marked so that people can pray to the Nava Grahas through the most natural methods.
Nava Griha Mandira
Besides the Nava Griha Udyananavana is a Nava Griha Mandir. It is an appropriate place for performing small poojas / Havans.
Rudrakshi Tree
One unique thing here is a Rudrakshi Tree. It is very rare that this tree grows in this part of the country. But here this tree has not only grown but also periodically grows the Rudrakshi beads. These beads are available in the Temple for sale.