Darshana Seva (Oracle)
Darshana (Narthan Seva / Oracle) at Shri Venkataramana Temple Mulki is of Kal Bhairav.  According to the legends this Darshana was sent here by Lord Shri Venkataramana from Tirupati. Every Saturday as soon as the Darshana starts the prasadam is first given to devotees who have any kanike or seva to be offered to Lord Venkataramana of Tirupati or Lord Manjunath of Dharmasthala. These offerings are maintained separately and then offered to the respective Temples.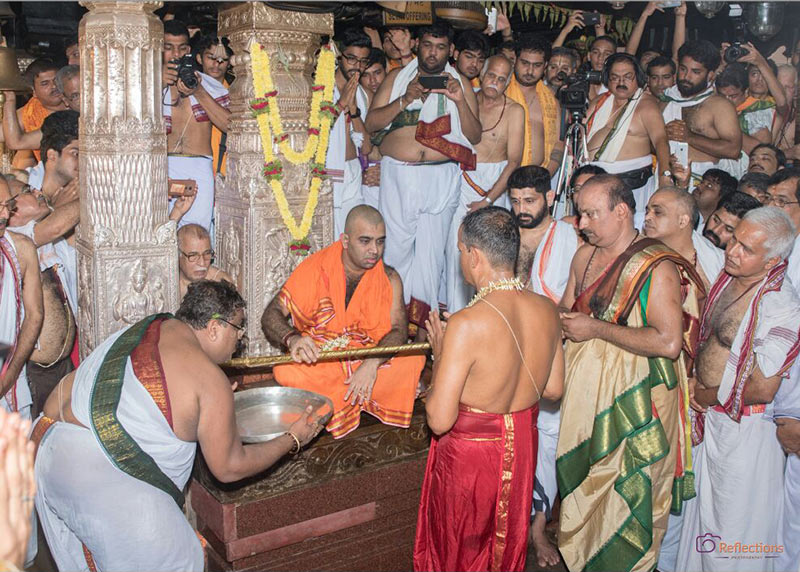 The Darshana Patri is from Palimar Nayak family belonging to Gujjadi Nayak family.
Usually the Darshana (Oracle) Seva is held on every Saturday, Sunday, Wednesday. Seva starts with 'Sarvalankar Pooja' at 10.30 A.M.
On Uthsav-days if other than Saturday, Sunday, Wednesday, Darshan will be there in the Evening or at Night.
Important Note
There will be No Darshan Seva during:
Sankramana – Dwadashi – Amavasya
Yugadi to Chaitra Panchami
Five days from Ganesh Chaturthi
Nine days of Navrathri and on Deepavali days
On Suthaka to Darshana Patri
It is better to contact the Manager (0824) 2290521 and confirm the Darshana Seva programme.