Online Kanike
e-Kanike
Use the below link to make an e-Kanike using debit/credit card or net-banking.
Offer Kanike
---
Jeernodhara
As per Sri Ashtamangala Prashna held by Sri Venkataramana temple Mulki under the divine blessings of Sri Kashi Mathadish Srimad Samyamindra Thirtha Swamiji it has been suggested that we go ahead with the Samagra Jeernodhara of the temple. Temple had undergone Samagra Jeernodhara 185 years back in 1833 under the guidance of Srimad Vibhudhendra Theertha Swamiji. We are all extremely fortunate to have got an opportunity to participate in this event, which happens once in many centuries. By the grace of God, the Jeernodhara will be conducted on a grand scale. All devotees who wish to contribute towards the Jeernodhara of the temple can click the button below.
Offer Jeernodhara Kanike
---
Annadana
Anna Dana Seva is supreme and incomparable out of all charities on earth. All life forces come from food and survive with food. So anna dana is nothing but giving PRANA to the living beings.
Anna Dana Seva was started 13 years ago with the purpose of serving devotees, pilgrims and hungry with food as prasadam of the almighty. Food is also served to 1500 school students daily. By the grace of God and the generous contribution of devotees, lakhs of devotees and students have been served in these years and this has been one of the highly appreciated and successful social initiative of the temple.
Offer Anna Dana Seva
---
Go Seva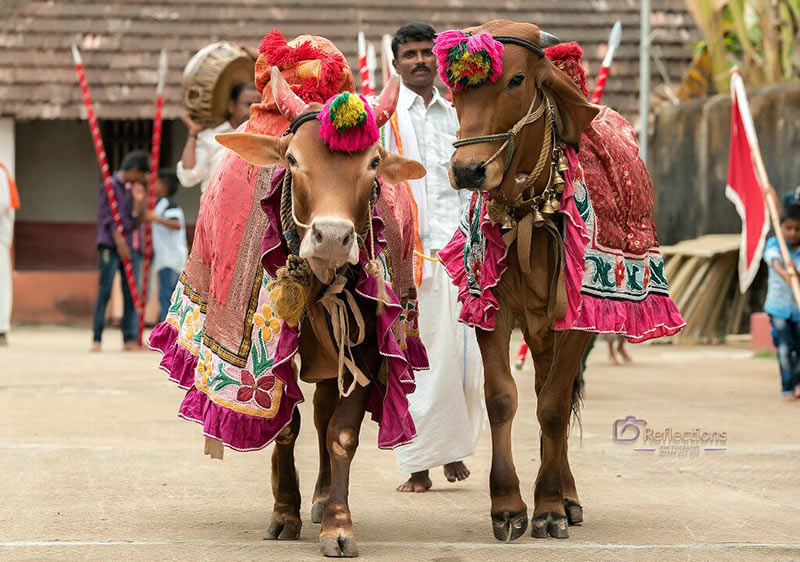 The special status of cows and the benefits of caring for them are found throughout the scriptures. The temple maintains a Goshala in its premises with cows and bulls. The bull holds a special significance to our temple as it participates in the various utsavs. The temple Goshala provides everyone a chance to serve these holy animals. If you wish to donate to this cause, please click the button below.
Offer Go Seva
---